Compare the 2022 Chevrolet Silverado 1500 near Georgetown, KY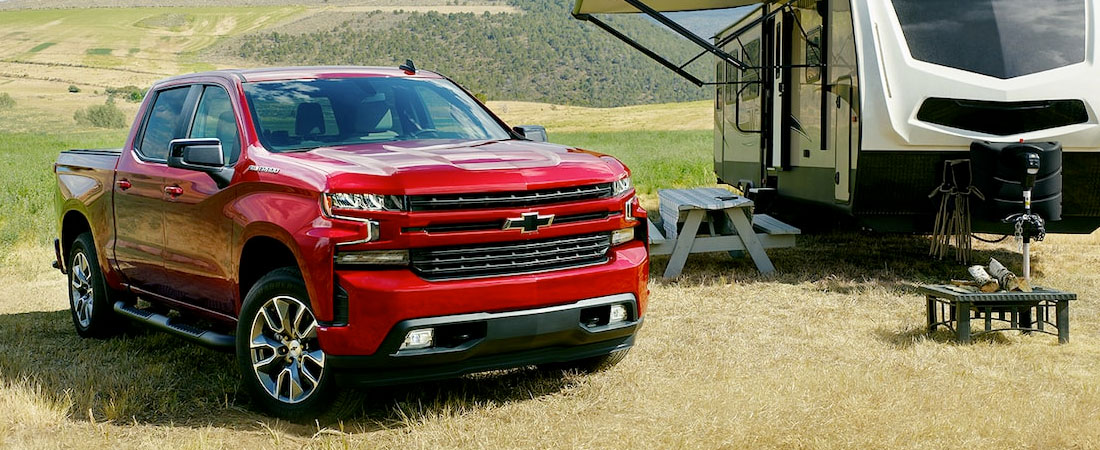 Compare the 2022 Chevrolet Silverado 1500
The competition is fierce, however, and there is no more formidable rival to the Silverado than the 2021 Ford F-150. Yet even the Ford can't outmuscle or outgun this hardworking Chevy. How do we know? Because our Chevy dealer near Georgetown, KY, pitted them against each other in a showdown, a three-bout Silverado vs. F-150 comparison that easily proves the supremacy of the Chevrolet. After the dust settled, it was clear which truck won.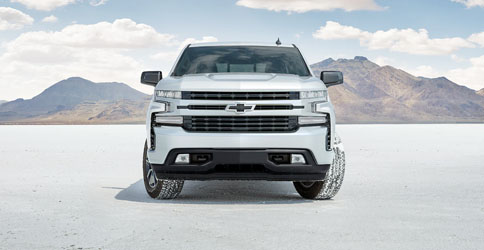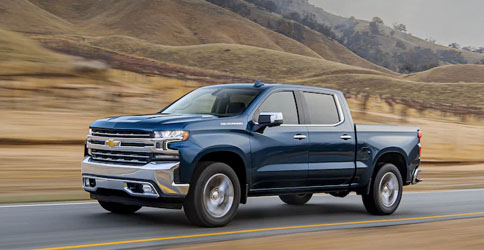 2022 Chevrolet Silverado Engine Specs vs. the Competition
Of the many 2022 Chevy Silverado 1500 specs, the most notable might be the wide range of available powertrains. Things start off with a potent turbocharged 4-cylinder that offers more torque than you'll find in nearly half of the available F-150 engines, including its 5.0-liter V8. Other popular Silverado engine options include the 5.3-liter and 6.2-liter V8s, which deliver an excellent balance of power and refinement. And if you'd rather buy a diesel truck in KY, the optional Silverado Duramax® Turbo-Diesel boasts more power than the diesel 6-cylinder available in the F-150. No doubt about it, the new Chevy Silverado features the superior engine choices for hardworking Kentuckians.
| Specs | 2022 Chevrolet Silverado 1500 | 2021 Ford F-150 |
| --- | --- | --- |
| V8 Engine Options | 2 | 1 |
| Max V8 Torque (lb.-ft.) | 460 | 400 |
| Max Diesel Torque (lb.-ft.) | 477 | 440 |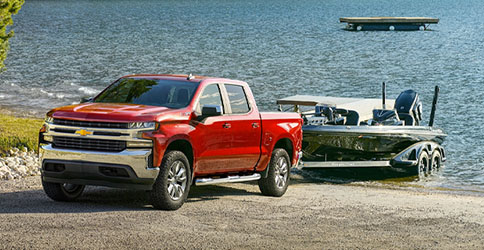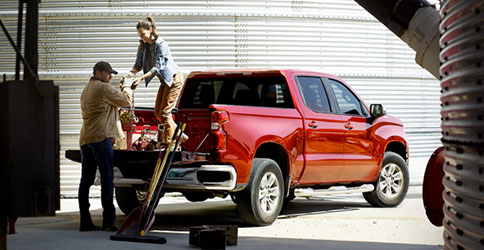 2022 Chevrolet Silverado Towing Capacity vs. Rivals
Ask any KY Chevy fan and they'll tell you that towing in the Silverado is nearly effortless. That praise is backed by the specs sheet: the Silverado towing capacity ranges from an impressive 9,500 pounds with the base 4-cylinder to a full 13,300 pounds when properly equipped. For reference, a base F-150 can't tow nearly as much, and even its diesel engine can't match the Chevy Duramax® Turbo-Diesel tow rating. The 2022 Silverado also offers a long list of optional towing technologies that includes eight available cameras, Advanced Trailering System technology and other cutting-edge features to make towing in Kentucky that much easier.
| Specs | 2022 Chevrolet Silverado 1500 | 2021 Ford F-150 |
| --- | --- | --- |
| Diesel Towing Capacity (lbs.) | 13,300 | 12,100 |
| Built-in trailering app | Available | N/A |
| Hands-free towing on compatible roads | Available | N/A |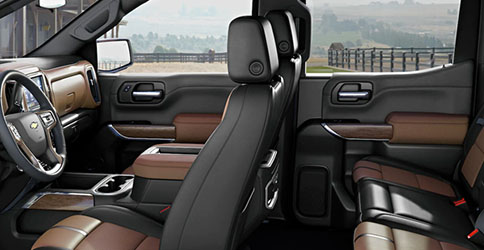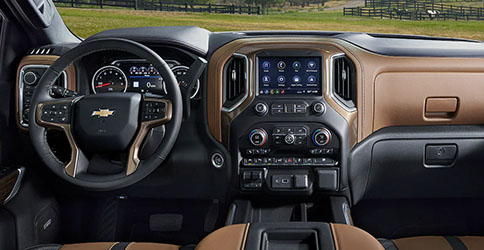 2022 Chevy Silverado Interior Technology Compared
Many of the new 2022 Silverado changes focus on the interior, which features enhancements such as a new standard 12.3-inch digital gauge cluster and accompanying 13.4-inch touchscreen. That's a larger standard touchscreen than the F-150 has, whose optional display caps out at 12 inches. The 2022 Chevy Silverado also introduces Super Cruise®, a hands-free, semi-autonomous driving technology that can even work when towing a trailer. It's this sort of segment leadership that continues to put Chevrolet out in front of its competition.
| Specs | 2022 Chevrolet Silverado 1500 | 2021 Ford F-150 |
| --- | --- | --- |
| Standard touchscreen display size (in.) | 13.4 | 8.0 |
| Standard suite of active safety features | Chevy Safety Assist™ | Ford Co-Pilot 360™ |
| Hands-free driving | Available | N/A |