9 Great Used Vehicles for Kentucky Drivers
Kentucky drivers know the value of buying a used car, truck, or SUV. Because you will get to stretch your dollar further than buying new, you actually get a broader choice of vehicles with more options than when you buy new, and you can get a better trim, engine option, or even model by stopping into your Kentucky used car dealership. At Dan Cummins Chevrolet Buick, we are dedicated to helping you find the used car, truck, or SUV that best fits your needs and best suits your lifestyle. This is because we understand that you want to get the most out of your vehicle budget. With that in mind, we have put together a list of our top picks for used vehicles that are perfect for Kentucky drivers. Each one has something about it that will make it ideal for your purposes.
3 Great Used Trucks
A used truck can be a great value buy for a number of reasons. Some folks use their trucks for work, and buying used will help you get a stronger truck for towing or carrying cargo. Others like to use their truck for off-roading, and buying used will give you the ability to find one with all the features you need for the trail, like skid plates and locking differentials. No matter what you plan to do with your truck, here are some of the best used trucks for you.
Chevy Silverado 1500
The most popular model of truck is the half-ton pickup. This is because it is the most versatile, perfect for whether you plan to use your truck for business, pleasure, or a little of both. No other automaker produces a truck with as many options as the Chevy Silverado 1500. You get a choice of rear-wheel or four-wheel drive, and three types of cabs, the Regular Cab with two doors and one row of seats, the Double Cab with two rows of seats, two full-size doors, and two half-doors, and the Crew Cab with two rows of seats and four full-size doors. Chevy offers the Silverado 1500 with so many choices of engines, transmissions, trims, and special editions that there are simply too many to list. With so many options, you will have no problem finding a used Chevy Silverado 1500 that meets your needs and exceeds your expectations.
GMC Sierra HD
GMC makes some of the toughest trucks, and the HD in Sierra HD stands for heavy-duty, meaning that this is the truck to choose for your most difficult jobs. The used GMC Sierra HD comes in 2500 and 3500 models, with the larger number bringing more power. This is the truck to choose if you need to move heavy equipment on a trailer or if you are looking to tow a large boat or mobile home. GMC gives you the choice of gas or turbo-diesel engines, as well as a surprisingly luxurious interior for a heavy-duty truck. If you are looking for the most luxury features on a truck that can handle the toughest jobs, then you should consider buying a used GMC Sierra HD Denali, which is much more affordable used than buying one new.
Toyota Tacoma
Some people are looking to buy their first truck but are intimidated by driving a full-size model. Others want a smaller truck for better fuel economy. Then there are people who want an agile truck designed specifically for off-roading. Wherever you fall in these groups, there are few midsize trucks as rugged and dependable as a used Toyota Tacoma. This midsize pickup is extremely versatile, with dozens of different configurations when you factor in trims, cab designs, bed options, and drivetrain choices. As such, you will have little difficulty finding a used Tacoma that will suit your needs, whether you're new to trucking or a seasoned veteran of midsize trucks.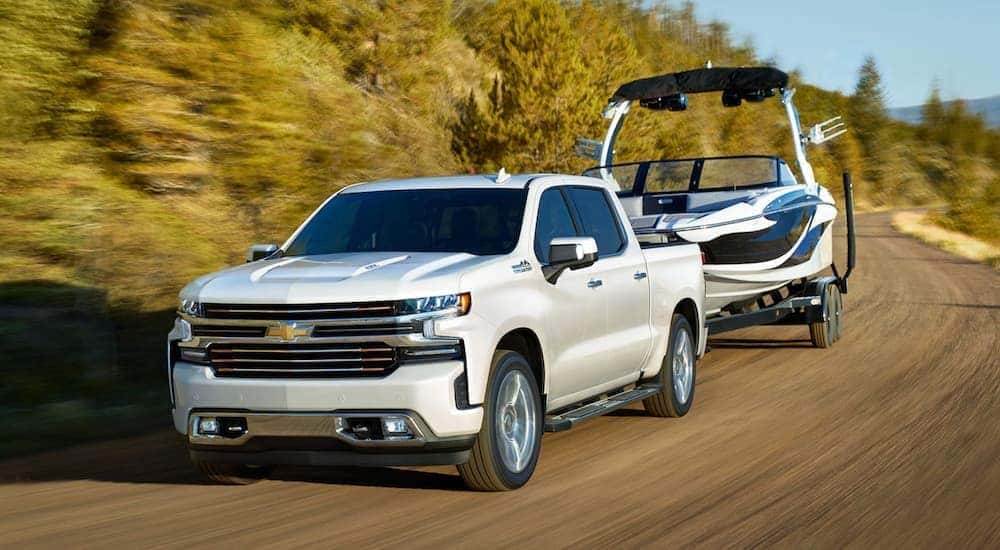 3 Great Used SUVs
SUVs have quickly captured the market that was once held by minivans and station wagons, representing the ideal family vehicle. With its combination of roomy passenger interiors, great cargo space, and solid safety features, a used SUV is perfect for drivers looking for versatility in their vehicle.
Buick Envision
Buick has developed a reputation for affordable luxury, focusing solely on producing some of the best SUVs on the market today. A used Buick Envision has room for up to five passengers in a crossover platform that consistently gets top marks for safety from the National Highway Transportation Safety Administration. Not only is a used Buick Envision one of the safest models in its class, but it is also one of the most luxurious. This SUV offers great choices of fabric or leather interior finishes, top-quality infotainment systems, roomy interiors, and a ride that is both smooth and comfortable.
Chevy Tahoe
Chevrolet recently came out with a new generation of its full-size Tahoe and Suburban SUVs, adding even more room and cargo space than ever before. Still, buying a used Tahoe will give you three rows of seats for up to nine passengers, giving you plenty of room for the whole family and some good friends as well. A used Tahoe is also ideal for a long trip as there is plenty of room for luggage in the trunk without having to fold down the third row of seats. What's more, you can find a used Tahoe with four-wheel drive, adding more traction for inclement weather as well as the ability to go off-roading if the mood hits.
Jeep Wrangler
Sometimes you just want to cut loose. Sometimes you want to get off the beaten path. This is where a used Jeep Wrangler comes in. With over 75 years of experience building off-road vehicles, Jeep is the leader in four-wheel drive SUVs designed especially for the trail. Jeep offers the choice of a 2-door Wrangler or 4-door Wrangler Unlimited model, both of which come standard with 4×4. The Wrangler also has some of the best approach and departure angles around, giving you the ability to get up, over, and around any obstacle in your path. Buying a used Wrangler will also let you get more features and a higher trim than buying a Jeep Wrangler new.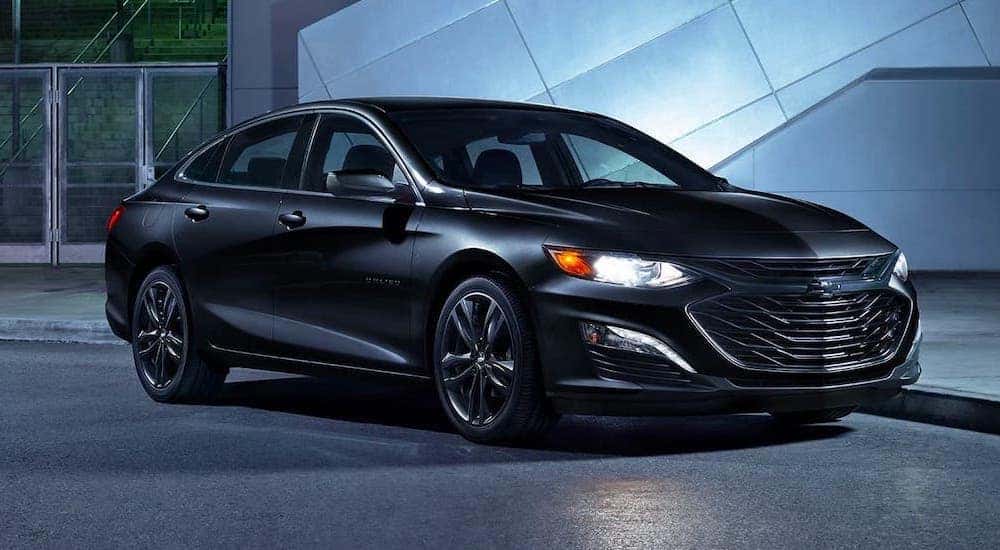 3 Great Used Sedans
Sedans were once the most popular model of vehicle, but they have been overtaken in recent years by SUVs and pickup trucks. Nevertheless, a used sedan can be a great car for a commute. They also provide some of the best road performance, exceptional fuel economy, and great value. Here are three very different sedans, each with something special to offer.
Chevy Malibu
One of Chevrolet's oldest and most popular models is the Chevy Malibu. This midsize sedan has plenty of room for up to five passengers with standard front-wheel drive for better fuel economy and easier handling. You should have no problem finding a used Malibu with its sporty styling, and this will make an ideal car for most drivers – especially for someone with a busy commute, as it will save you money at the gas pump while making your drive to and from work a little more enjoyable.
Cadillac ATS
If you are looking for a luxury sedan that won't bust your budget, then a used Cadillac ATS is the sedan for you. This car sports classic Cadillac looks in a more streamlined appearance for better overall performance. Cadillac carries these looks into its leather-appointed interior, which is roomy and comfortable even if you are carrying passengers. The ATS also comes equipped with a great sound system, providing more entertainment for your passengers during your ride, so you are sure to enjoy driving this luxury sedan.
Dodge Charger
Dodge has focused on producing top muscle car sedans that harken back to the heyday of the 60s and 70s. Buying a used Dodge Charger will give entry into the world of high-performance sports cars at a very affordable price. Dodge offers the Charger with a great selection of trims and engines, so you will have little problem finding a used model with the options and performance you are looking for in a sedan. Each model sports a roomy interior and surprisingly useful trunk, something that is missing from most other muscle cars.
Buy Your Next Used Vehicle From Us
Stop into Dan Cummins Chevrolet Buick Paris today and see why we have the best selection of used cars, trucks, and SUVs in Kentucky. We carry used vehicles from all the top automakers with a great selection of popular models. Our extensive inventory means that you won't have a problem finding the one you want at a very affordable price, including our top picks listed above.