Should I Buy a Gas or Electric 2022 Chevy Silverado 1500?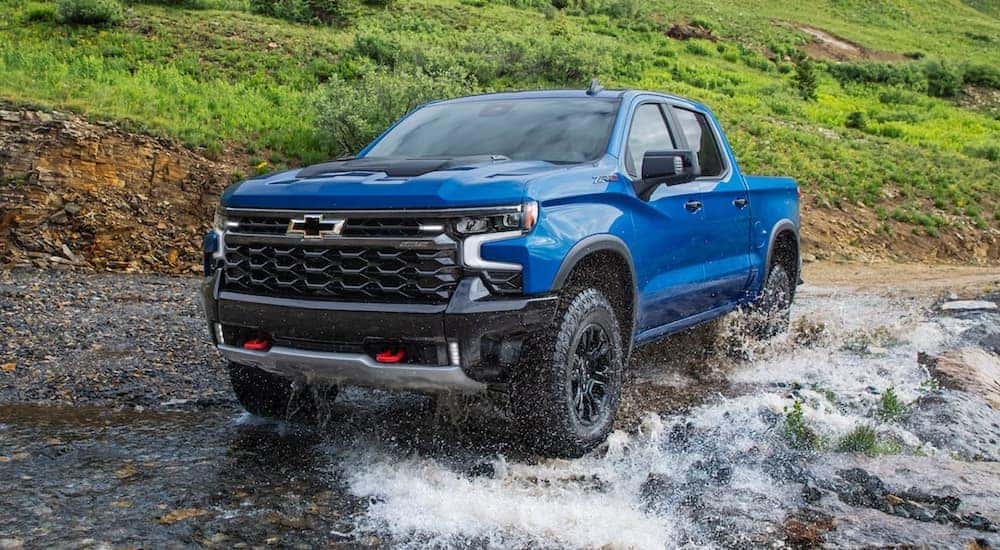 By now, most enthusiasts are aware of the Silverado's future as an all-electric light-duty pickup. It was an inevitability as emission laws and efficiency standards are consistently moving toward greener technologies. This means the traditional combustion engine will soon become a rarity for new model years within the very near future. But while the gas-powered alternatives are still available, do you opt for a combustion-based gas guzzler, or do you go with the new powertrain on the block in the form of an electric truck? It's something many truck shoppers will mull over as they head to a Chevy dealer in KY to find their next ride, especially if it happens to be a 2022 Silverado 1500.
Choosing one kind of powertrain over another is now a little more involved than in previous model years. Traditionally, your choices for the Silverado spanned a multitude of gasoline engine options that ranged from a 2.7 liter 4-cylinder all the way up to a 6.2-liter V8. The biggest challenge was figuring out what your price ceiling was going to be and how much horsepower and torque you wanted out of the truck. But now you have to consider something that doesn't even run on traditional fossil fuels. It can definitely look like a big decision for people considering a 2022 Chevy Silverado. But before we get into that, there's another question that has to be addressed first and foremost…
Is There Still a Gas-Powered 2022 Silverado?
Yes. The 2022 Chevy Silverado Limited will be a carryover release containing many of the features, trims, and powertrains from the previous model year Silverado. The fully refreshed 2022 Silverado will also offer an array of gasoline engines, though the full list has not yet been revealed. This means that you can still purchase a 2022 Silverado with a tried and true powertrain that you have come to know and trust from the light-duty pickup. The Silverado EV is a separate entity that is primed to face off against other electric pickups from competing manufacturers.
The Silverado Limited will continue to offer the EcoTec3 and Duramax powertrains. This means you still have access to the 2.7-liter turbocharged inline 4-cylinder, the 5.3-liter and 6.2-liter Ecotec V8, and the 3.0-liter turbo-diesel (the 4.3-liter V6 found in the 2021 Silverado has been dropped from the lineup). Anyone not ready to move into the green zone can still embrace the traditional engine options that the Silverado has been known for in recent years. Some minor trim changes have also been made in terms of the availability of some of the powertrains. The Work Truck trim will have access to the 5.3-liter V8, and the Duramax turbo-diesel will be made available on the LT Trail Boss trim.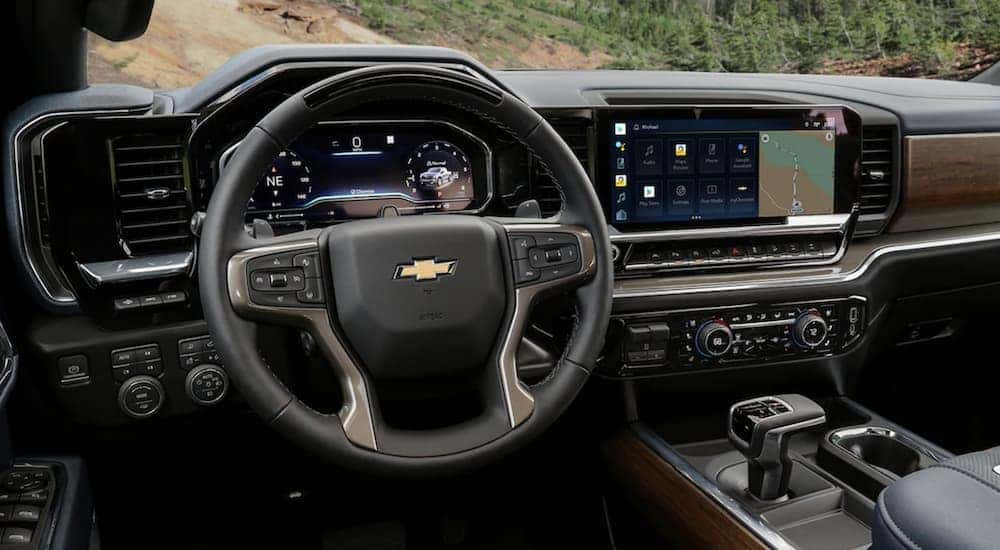 What's the Difference Between Electric Motors and Combustion Engines?
Technically, electric motors are just the mechanisms used to propel the vehicle forward (or backward). The real power behind electric vehicles is in the battery pack. This is where the fundamental differences come in between an electric vehicle and a vehicle using a combustion engine. The electric Silverado will be powered by a battery and electric motors.
In a traditional combustion engine, you press the accelerator, and it feeds fuel into the engine to create propulsion when the vehicle is in gear. For an electric vehicle, you press the accelerator, and it feeds power from the battery pack into a permanent magnet motor that uses electro-magnetism to rapidly spin and propel the vehicle.
These fundamental differences change how torque is generated for the vehicle. Combustion engines need to get up to speed to generate more torque. Electric motors, however, have their full power available from the moment electricity is applied and actually taper off slightly at higher rotational speeds. The power is instantaneously generated and then delivered to the driveline.
Is a Combustion Engine or Electric Motor Better for Me?
Since we're talking about a 2022 Chevy Silverado, comparing an electric motor versus a combustion engine is very different than when talking about a sedan or subcompact crossover. A light-duty pickup serves different purposes compared to smaller vehicles, so there are some pros and cons when it comes to deciding on which powertrain option is a better fit for you.
For pickup trucks, a lot of the focus is on payload and trailering capacity; most truck owners want something they can rely on for some large-scale tasks. Combustion engines of the gas and diesel variety have been go-to solutions for heavy-duty towing and trailering, and with good reason. When the chips are down, and you need an engine that can handle a heavy load, the EcoTec and Duramax engines have held up under some strenuous undertakings. If you're worried about reliability, then you can at least trust going the old-school route of a gas-guzzling engine to get the job done.
However, electric motors can't be discounted either. They still allow you to tow and trailer, albeit maybe not to the same degree as a turbo-diesel or high-end V8. Even still, the electric motors being put into the new generation of trucks are capable of high-end torque output at low speeds and are finely tuned to accommodate some of the payload and trailering ratings most truck-shoppers have come to expect from light-duty pickups. A lot of it boils down to what you plan to use the truck for and how much power you need from the truck for designated tasks.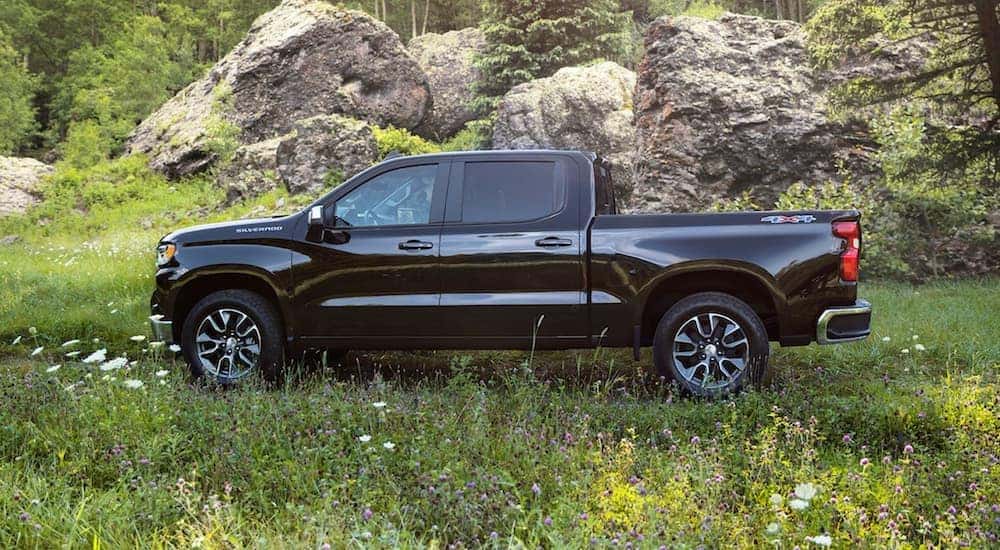 How Much Difference Is There in Fuel Economy?
Fuel economy for trucks depends almost entirely on what you're using the truck for. If you want a powerful Chevy Silverado with great top-end speed and acceleration, you're going to end up sacrificing some fuel economy, especially in the city. However, if you go with the turbo-diesel, then you're going to get great gains on both gas mileage and performance. Ironically, with an electric truck, you actually get better fuel economy (or electric economy) in the city than you do on the highway, thanks to regenerative braking, which helps restore some of the battery's charge the more you engage in stop-and-go travel.
For the 2022 Silverado EV, an estimated 400-mile range on a full charge means you can travel quite a ways before you have to recharge. Further, you won't have to put up with the fluctuating dollars-per-gallon at the pump due to fluctuating oil prices on the market. Instead, you have the luxury of being able to charge the Silverado up a number of different ways based on charging stations and charging station access.
One of the benefits of an electric vehicle over a traditional combustion engine is that you can actually refuel at home by plugging your Silverado right into a charging socket. That's not something you can do with a gas or diesel truck and makes an EV a great choice if you mostly operate from home. However, if you are looking for long-distance towing, then a gasoline or diesel Silverado lets you quickly refuel wherever you are, even if it is less convenient in your daily life.
Are There Other Benefits of an Electric Silverado?
There are some unique benefits to an electric 2022 Silverado over its traditional gas and diesel counterparts. On top of the instant electrical power and convenient at-home charging, Chevy has done its best to give the new Silverado some additional features to set it apart from the crowd. One of the most exciting is its new four-wheel steer capability. When you are trying to make a sharp turn, the rear wheels will also rotate, giving you a much shorter turning radius. Little details like this are also something to consider when you visit a Chevy dealer in KY if you're planning on grabbing a 2022 Silverado.