Top 10 SUVs Ever Built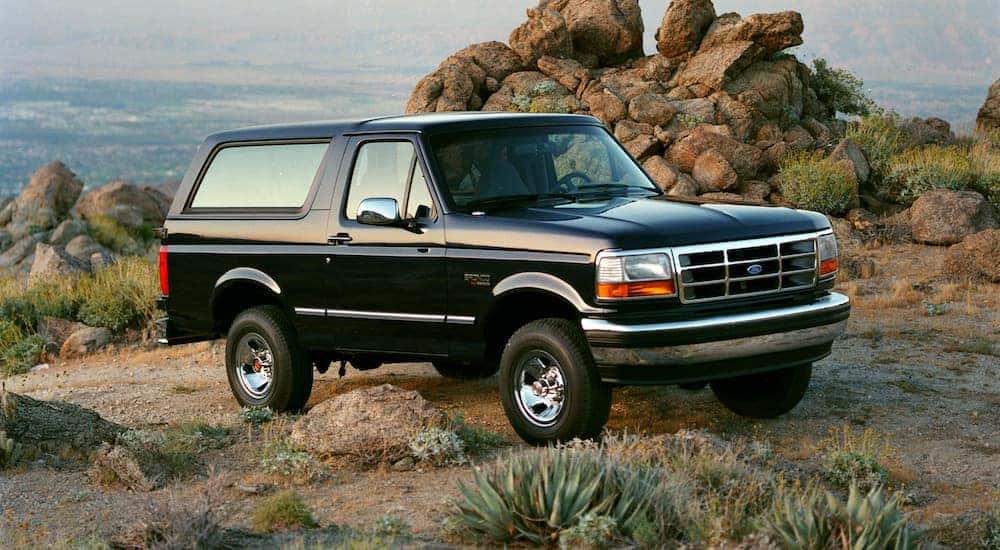 You see them everywhere you go, whether you're roaming around town running errands or embarking on a bucket list trip across the country. It seems as though every driver owns one of these sturdy, reliable, and versatile vehicles, and you can't help but wonder how they came to be so very popular. We're talking about SUVs, and at Dan Cummins Chevrolet Buick, the top Kentucky used car lot, we have seen quite a few impressive SUVs over the years. SUVs have a celebrated history, one that stems from decades of evolution, years of advancements, and unrelenting competition from different automakers. If you're wondering what some of the best SUVs ever built are, let's take a trip down memory lane.
#1 The Iconic Ford Bronco
Although the Ford Bronco has recently re-emerged onto the scene, it's hardly new in the automotive world. Launched back in the 1960s, the original Bronco was reminiscent of a station wagon and pickup truck all rolled into one, and it didn't take long for drivers everywhere to become enamored with its style and functionality. The Bronco became a trendsetter, allowing other SUVs to spawn from its ruggedness, versatility, and capability, and although its beginnings were humble, it transitioned into one of Ford's most famous offerings.
Able to traverse new terrain and do so with profound strength, the Bronco became a household name, even making its way onto everyone's television screens during a 1994 high-speed car chase featuring none other than former football star O.J. Simpson. But it didn't take a controversy to make the Bronco famous. Its skillful ride, no-nonsense performance, and utilitarian style became its claim to fame, and when it was retired in 1996, fans knew that it was only a matter of time before the masses would want it back.
#2 The Ever-Lasting Jeep Wrangler
There's no trail you can't travel without finding a Jeep Wrangler in your sights. With deep roots in the war era, Jeep became an American legend, providing aid to the troops during WWII and eventually branching out to give the people what they wanted through its arsenal of civilian vehicles. The Wrangler, one of Jeep's most prized models, launched in the mid-1980s, giving adventurers everywhere the chance to roam free with a vehicle that could travel anywhere, navigate any type of terrain and do so with an agility like no other.
The Wrangler is the definition of off-roading, and one look at its removable doors and roof, unmatched suspension system, and strong, rugged build, and you know that it's ready to take on any terrain. As the years have gone on, we've seen many Wranglers pass us by on the road, and now, even a hybrid Wrangler has graced us with its presence, making the Wrangler a staple in off-road traveling and beyond.
#3 The Exemplary Land Rover
Just as the name proclaims, the Land Rover allows drivers to traverse even the most dangerous terrain with a finesse that's uncanny and unlike anything you've seen before. Rugged, built with a toughness that can't be rivaled, and full of spunk, Land Rovers have been busting through barriers since the 1940s. Now with options, like the ever-popular Range Rover, sporty Discovery, and aggressive Defender, the Land Rover name can be seen on virtually every roadway. With a luxurious style that can't be beaten, it's no surprise that Land Rovers appeal to even the most affluent drivers.
#4 The Impressive Hummer H3
Although everyone knows that Hummers weren't the greatest when it came to fuel efficiency, these ultra-cool travelers made such an impact. And with the dawning of a new era upon us with the Hummer EV line, the future is bright for this iconic SUV. With its military-based styling and aggressive stance, the H3 was a top pick for those who wanted a large vehicle to provide them with ultimate capabilities and strength, even in bad road conditions. And for those who ventured to take this mean machine off-road, well…we're sure you have some stories to tell. Now, the Hummer is making its way back onto roadways across America and to say we're excited is a bit of an understatement.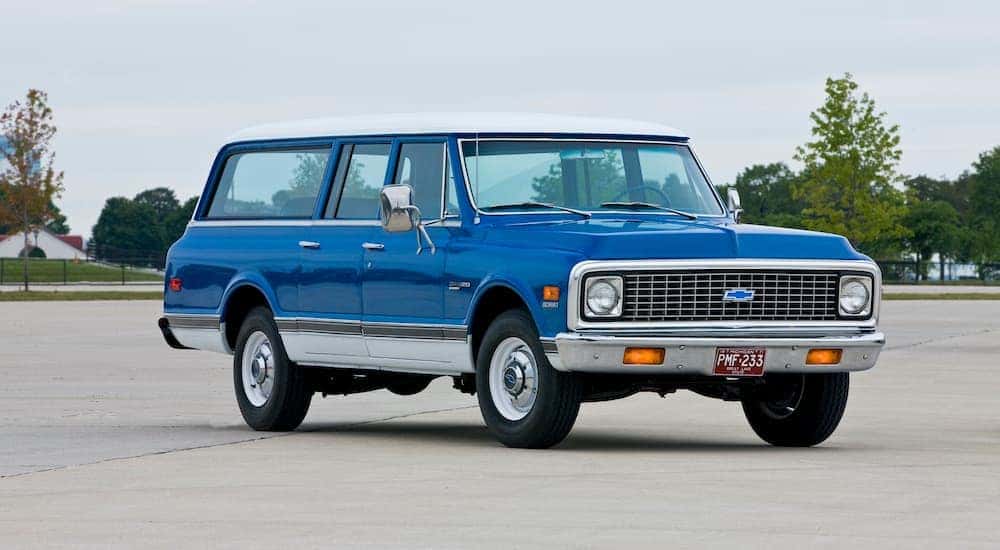 #5 The Historic Chevy Suburban
Chevrolet has been around for over a century, shaping the auto industry as we know it and continuing to offer vehicles that are pioneers on the road. Since the mid-1930s, the Suburban has been in the Chevy lineup, and when you want a large vehicle designed to handle more, nothing else comes close to the Suburban. Armed with a mighty engine, capable of impressive towing capabilities, as well as a spacious interior that can accommodate large families, their gear, and more, the Suburban is a dream come true for those looking for a dependable vehicle that can handle it all. With the power of a pickup and the flexibility of an SUV, the Suburban makes it easy to get to where you're going next with functionality and comfortability.
#6 The Extraordinary Jeep Wagoneer
We're willing to bet you knew at least one person who had the Wagoneer in their family in the 80s. Originally developed and launched in the 1960s, the Wagoneer quickly became the ideal people shuttle, especially popular with families. Wood paneling donning its exterior and a roomy interior, this grocery-getter was seen near and far, and as the years went on, more features were added to it to make it even more comfortable inside, like bucket seats, air conditioning, and more luxurious features. The Wagoneer and Grand Wagoneer eventually said their farewells, but it wasn't long before Jeep resurrected these crowd favorites, only this time, you may find them hard to recognize. The all-new Wagoneer and Grand Wagoneer feature high-end appointments, sweeping curves, and an upscale ambiance like never before, making these two sophisticated travelers completely different from their predecessors.
#7 The Best-Selling Toyota RAV4
Gracing us with its presence in the early 90s, the Toyota RAV4 gave drivers exactly what they needed when their needs called for a dependable reputation and innovative features. This small crossover emitted a nice blend of off-road excitement and remarkable comfort. And when you wanted a bigger option than a sedan, paired with rugged style, this recreational active vehicle (RAV) was the perfect match. The RAV4 continues to travel roadways everywhere, now donning a more modern style, a larger interior, and packed with impressive features throughout to make it the ideal pick for a wide range of drivers.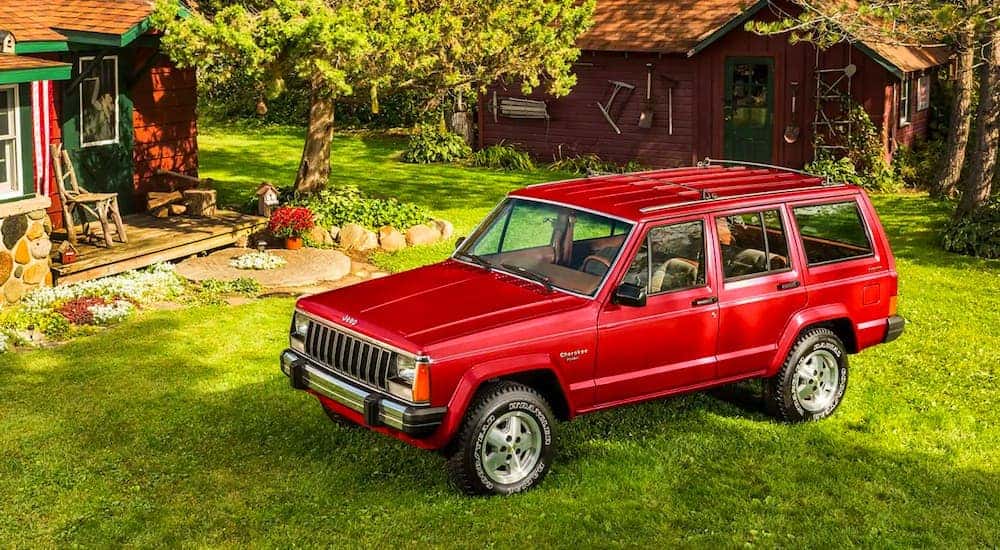 #8 The Notable Jeep Cherokee
It shouldn't come as a shock that yet another Jeep has made its way onto our list. In the mid-1980s, the Jeep Cherokee quietly made its way onto the scene with its unique construction and efficient ride. Although it was much smaller than many of its rivals, its power was undeniable, able to tow heavy loads and take on any road condition with finesse, quickly making its way into the spotlight for many drivers. Small yet agile, the Cherokee continues to be a force in the Jeep lineup, and it just keeps getting better as the years go on.
#9 The Famous Toyota Land Cruiser
One of the oldest models from the brand, the Toyota Land Cruiser pairs Land Rover style with Jeep capabilities to make for one seriously inspiring ride. Although its roots were originally more utilitarian in nature, the Land Cruisers of today are much more sophisticated and elegant, making them top picks for those looking for a luxury adventure vehicle.
#10 The Thrilling Mercedes-Benz G Class
The G-Wagen has made its way into many songs these days, known for its ultra-sleek appearance and smooth ride, perfect for those seeking popstar status. Although still sporting an athletic build, the G-Wagen, one of the oldest in the Mercedes-Benz lineup, showcases extreme power with a strong engine and off-road capabilities that you'd never imagine. The G-Wagen is more than just a red carpet staple; it's meant to be outdoors. With style and function working simultaneously together, the G-Wagen continues to have a strong presence in the entertainment and the automotive industries alike.
The Future of SUVs
With rich histories and many celebrated moments, it's only up from here for many sport utility vehicles. From lavish options, like the Land Rover and G-Wagen to the practical RAV4 and Suburban, there's literally an SUV out there for any driver. No matter if you want more room for your family or more capabilities for your off-road adventures, SUVs continue to be a part of any type of journey. And if you're looking to add one to your family, let Dan Cummins Chevrolet Buick help. From our unmatched inventory of new and used options to our all-star team, we're your go-to destination for the best SUVs ever built.