Used Chevy vs Used Ram: Which One Do You Really Want?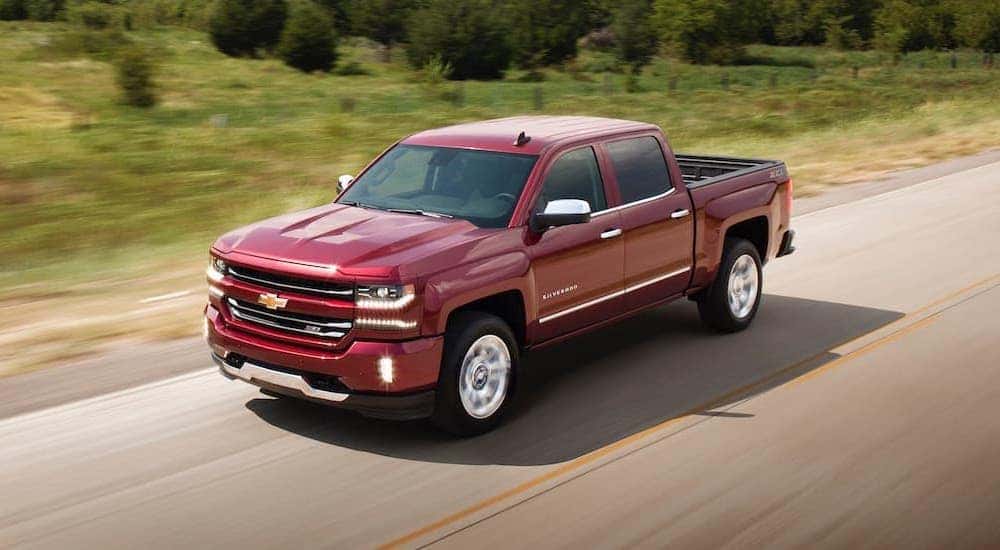 If you're looking for the best used truck dealer in Lexington, Dan Cummins Chevrolet Buick is the right choice. Just because Chevy is in our name doesn't mean we only have used Chevy trucks on our lot. So when you want something like a Ford F-150 or find yourself debating between the Chevy Silverado 1500 and Ram 1500, we've got you covered.
Both trucks are great options and are designed to share similar purposes, but each one offers specific perks that benefit different crowds. The Silverado is best at towing and hauling, while the Ram is a great performance option; however, both models are strong and quick overall. Since this can get a bit confusing, we are here to help you see which one is the better fit for you. It's important to keep in mind here that neither of these trucks is better than the other. Rather, they offer important specs that make them appeal to different crowds. Both trucks are ready to tow large loads and are powerful, so no matter which one you bring home, you can be confident in your decision.
The Silverado 1500
The Chevy Silverado first originated in 1999, replacing Chevy's classic C/K line. These trucks were designed for both off-roading and towing labor, coming with V6 and V8 engine options. These models could tow up to 10,300 pounds and could haul 3,129 pounds worth of cargo in their bed. These Silverados could essentially handle any ordinary towing job you'd ever need.
They still deliver these results and even more impressive stats today. Another perk to buying a Silverado is that these trucks are known for their longevity. For example, one 2006 Silverado model reportedly made it over 1.2 million miles, and it was still going strong at the time of reporting. But that doesn't mean we're encouraging you to go out and purchase a 2006 model. Despite the Silverado's resiliency, we recommend going with a third-generation (2014 – 2018) Chevy Silverado. These options are newer, so they include higher towing capacities, more safety technology, and better warranties, thanks to their Certified Pre-Owned (CPO) status.
For example, let's take a look at the 2017 Chevy Silverado model. These trucks can tow up to 12,500 pounds when properly equipped. The double-cab body style can handle the most payload, landing at 2,250 pounds. This means that they can haul as much as 2,250 in the bed alone with no extra packages or add-ons.
There are also several different engine options on this model, including a 4.3-liter V6 engine, a 5.3-liter V8, and a 6.2-liter V8. But no matter which combination you choose, you can still tow a low maximum of 9,500 pounds and a 1,930 payload capacity. There's no way to go wrong with a 2017 Silverado when it comes to labor stats. It's safe to say that the third-generation Chevy Silverado 1500 is made for towing and hauling above all else. In fact, the 2017 Silverado 1500 is the most tow-capable of its class, making it the number one option for farmers, construction workers, and the likes.
That said, the Silverado's safety features are there to really help it shine. Its most unique safety asset is the Teen Driver Mode feature. Teen Driver Mode is a new driver monitoring system that comes with a vehicle tracker, a volume limiter, and a speed limiter. It also includes a report card that tracks how your teen is driving when you're not around. While many people like to teach their teens to drive cars or crossovers, the added safety that comes with a truck's body style is a large perk of choosing this model. Teen Driver Mode is a great system for safely teaching your teen good driving habits. This mode comes standard no matter what trim you choose.
When you upgrade your trim, you'll also get all sorts of driver assist features such as Automatic Emergency Braking, Lane Keep Assist, and Forward Collision Alert. These work to help prevent head-on collisions and sideswipes by providing drivers with audible alerts and automatic brake applications when needed.
Most importantly, no matter what trim you choose, you'll get Trailer Sway Control as a standard feature on the 2017 Silverado. This works with Chevy's StabiliTrak to prevent fishtailing and traction loss. Overall, the third-generation Silverado has high safety ratings thanks to its build and these driver assist options. For a truck with great towing capability and modern safety features, check out a third-generation Silverado 1500.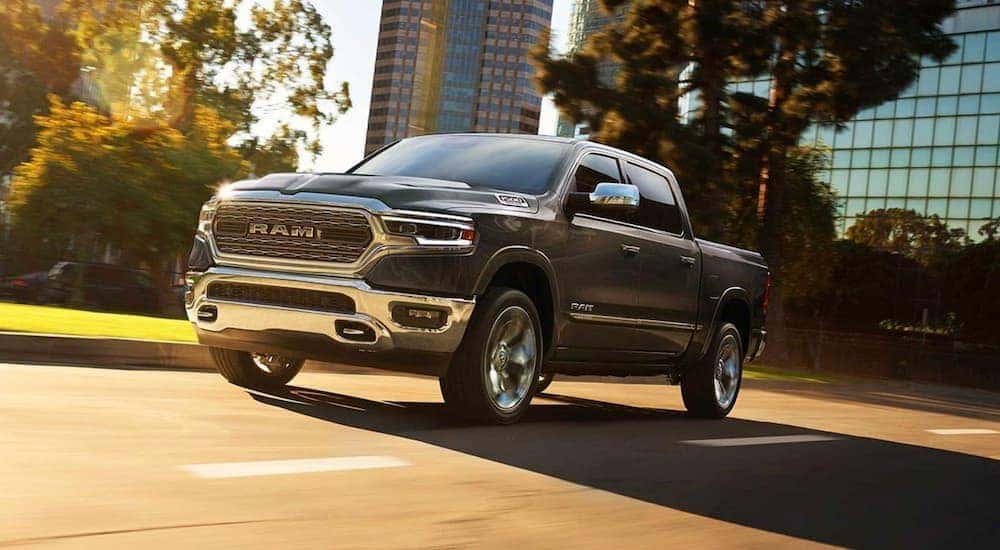 The Ram 1500
The Ram's history is a bit more complex. Technically, the first Ram was released in 1994. At the time, Dodge owned Ram, but from 2009 on, the Ram brand separated from Dodge and became its own. Since then, the brand has greatly improved since it's truck-centered, giving Ram more room for upgrades and more trim variants.
The main reason to choose a Ram is for its performance levels. It's overall the best street performance option for trucks. We recommend the later-level fourth-generation Ram 1500 (2009 – 2018) or a newer fifth-generation (2019 – Present) when buying a used Ram truck. Here's why.
We'll start with the 2018 Ram 1500 first. This model can tow up to 10,620 pounds, so it's definitely a tow-capable model. However, it's the better option for those who are performance-focused. When you opt for the Ram's strongest HEMI V8 engine option, you'll get up to 395 horsepower and 410 pound-feet of torque. In addition to its power and efficiency, the 2018 Ram is also tech-savvy and includes features such as remote vehicle start, dual-zone temperature control, which means that both the driver and the passenger can control their thermostat, and rain-sensing wipers.
The 2018 model even includes its own "Harvest Edition" trim, which focuses heavily on agriculture and farming crowds. You can actually find 2018 Harvest Edition Rams to match your tractor color. Whether you prefer New Holland or Case IH tractors, there's a Ram out there for you. Thanks to this and its high tow capacity, the Ram makes for just as great of a farm truck as the Silverado does.
While the regular Ram definitely hits high on the horsepower and torque ratings, the 2021 Ram TRX takes the Ram's performance talents a bit further, producing as much horsepower as a sports car. That's right; this model packs 702 horsepower and 650 pound-feet of torque. The only truck that even slightly competes with the 2021 TRX is the Ford F-150 Raptor, which doesn't even come close to matching up in horsepower or torque categories, landing at 450 horsepower and 510 lb-ft of torque.
Most vehicle enthusiasts feel the need to have a powerful truck and a speedy sports car, but the TRX removes that need by combining all these specs into one singular model. Whether you like the classic Ram or the TRX, those who care about towing power AND race performance power will definitely want to ask their local dealership about a fourth or fifth-generation Ram 1500.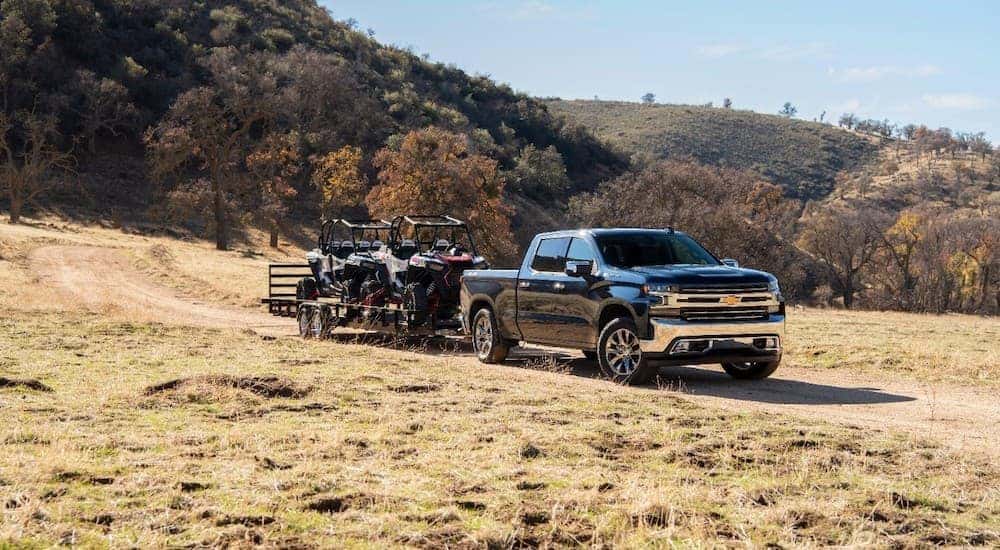 Which One Do I Choose?
While many trucks outperform each other in some retrospect, there's no competition between the Silverado 1500 and the Ram 1500. Rather, it's about which aspects appeal most to you. The Silverado is definitely capable of both towing and meeting above standard truck performance expectations. However, the Ram 1500 is a great option for those who need to tow and haul occasionally but who also enjoy racing and showing off on the streets. Here at Dan Cummins Chevrolet Buick, we have several available models no matter which route you go. Check out our dealership today and ask to test drive one or both of these powerful truck models.