About Our Chevrolet Buick Dealership in Paris, KY
Welcome to Dan Cummins Chevrolet Buick. We are proud to be one of the largest dealerships in the greater Lexington area, offering Kentucky drivers an unmatched inventory of high-quality cars, trucks, and SUVs from two of America's favorite brands. As a member of the community since 1956, we know what Lexington residents need in a vehicle, and we can help you find your dream car. We also offer an expert finance department and a fully-certified service center, making your car-buying and car-owning experience more convenient. When you visit Dan Cummins, you can expect nothing but the very best.
The Best Inventory Around
When you are shopping for a new car, the last thing you want is to have to trek from dealership to dealership to find the model you want. That is why we offer an exceptional selection of new and used cars, trucks, and SUVs. With hundreds of popular vehicles to choose from, from rugged Chevy models like the Silverado, Tahoe, and Equinox, to luxurious Buick models like the Encore and Enclave, your dream car is just waiting to be discovered on our lot. When you pay a visit to Dan Cummins, you won't have to go anywhere else.
Of course, our inventory is not limited to just the latest models from Chevy and Buick. You will also be met with a selection of hand-picked Certified Pre-Owned vehicles from these two all-American brands and a vast collection of some of the most reliable and affordable used cars on the market. High-value options from Dodge, Chrysler, Jeep, RAM, and other top manufacturers can be found in our used car inventory. At Dan Cummins, we always put the customer first, and the number one way that we cater to your needs is by maintaining an unparalleled selection of vehicles for you to choose from.
A Team That Cares About You
We know that car shopping can be a stressful process. Sifting through the countless options available to you to find the perfect vehicle for your needs can be exhausting, and once you're done, you still have to figure out financing and keep your vehicle maintained. To make your life simpler, the team here at Dan Cummins Chevy Buick can guide you through the entire car-buying process from start to finish. Once you have the keys to your new car, our skilled technicians are here to help make sure it keeps running like new for years to come.
When you first arrive on our lot, our friendly sales team is standing by to answer any questions that you might have. Modern cars are more complicated than ever before, but our staff knows Chevy and Buick inside and out. From pickup trucks to SUVs, we have the information you need to choose the right car. Once you have made your choice, our skilled finance team will whip up a loan or lease with competitive terms that match your budget and ownership goals. We work with a variety of lenders to make sure that you can afford the car of your dreams.
Lexington's Favorite Dealership
Dan Cummins has been a part of the local community since 1956, and over the past seven decades, we've done our best to make the Lexington area better for everyone. Not only does that include providing high-quality cars at high-value prices, but it also extends to our charity work and community outreach. For instance, in 2021, we decided to donate a portion of every car sale to CASA of Lexington, supporting a non-profit that does so much to help out children in need. We have always believed in giving back to the community that we are all a part of, and that is why Dan Cummins Chevy Buick is Lexington's favorite dealership.
Dan Cummins and our Commitment to CASA of Lexington
Dan Cummins Auto Group is proud to be a sponsor of CASA, the Court Appointed Special Advocates of Lexington. CASA's trained volunteers help victims of child abuse and neglect become safe and have them thrive in a permanent home by advocating on their behalf to the court system.
Each year we set a goal to raise $100,000 for CASA by donating a portion of the profits from every car we sell, and we hit our goal every year. Our donation ensures that 100 children will gain a CASA volunteer for the following year. Along with our donation, we host an annual CASA Angel Tree, where our employees pick envelopes on a Christmas tree in our showrooms containing a name and wish list of a child from CASA. Our employees then make that child's Christmas wishes come true whether it be toys they are asking for or clothes. We are always excited to support the CASA organization each year and we thank our customers for making the donation possible. At Dan Cummins, your vehicle purchase is more than just another vehicle sold. It gives a child hope.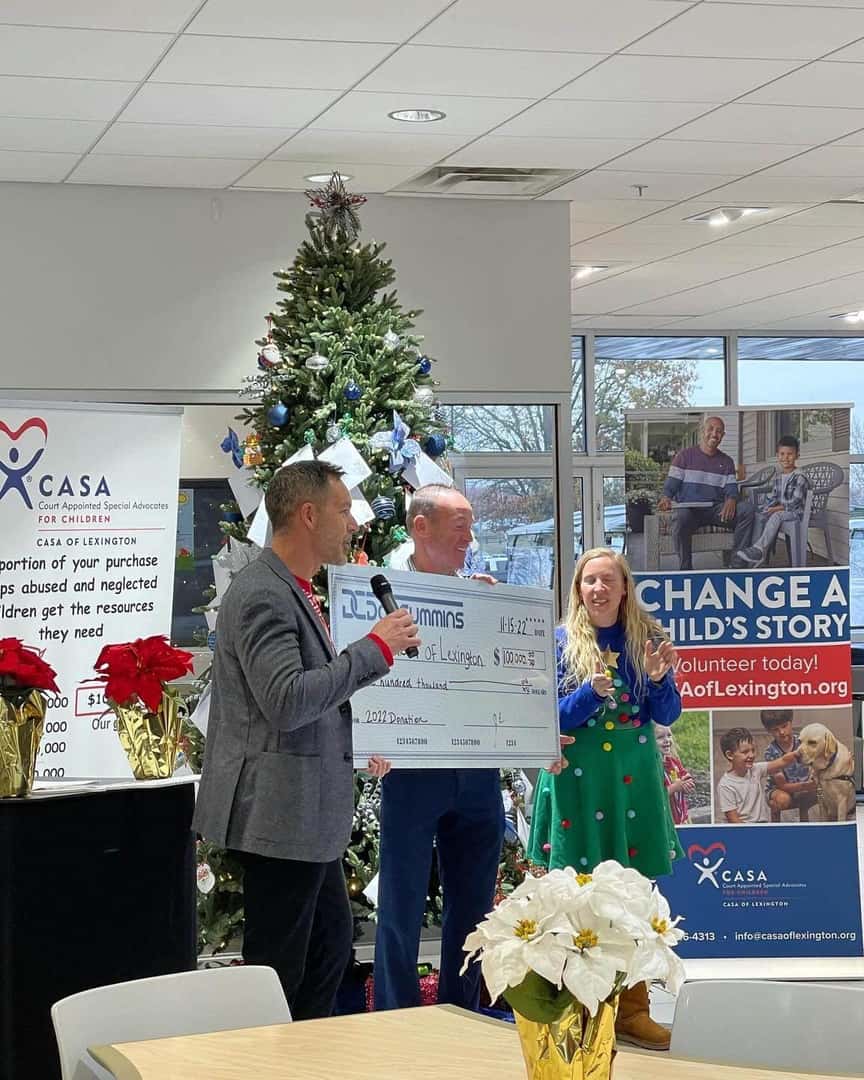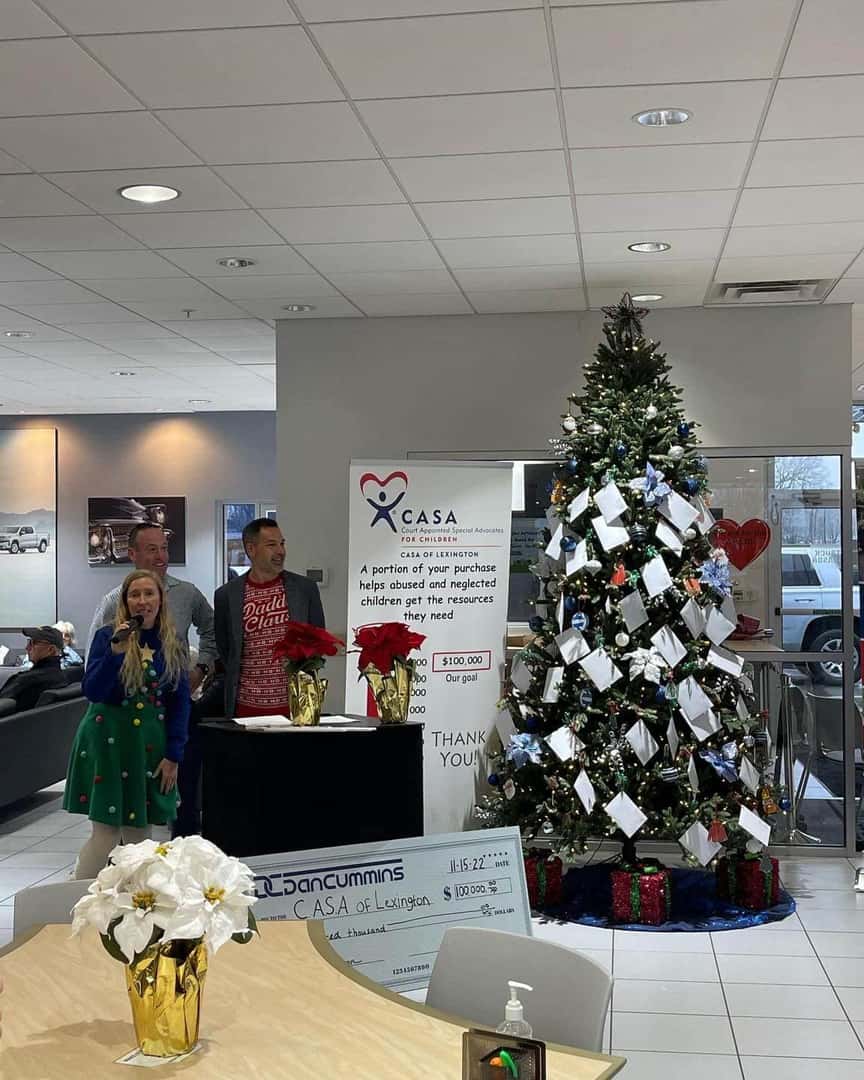 Mon - Fri

8:30 AM - 8:00 PM




Sat

8:30 AM - 6:00 PM




Sun

Closed
Mon - Fri

7:30 AM - 6:00 PM




Sat

8:00 AM - 3:00 PM




Sun

Closed
Mon - Fri

7:30 AM - 6:00 PM




Sat

8:00 AM - 3:00 PM




Sun

Closed